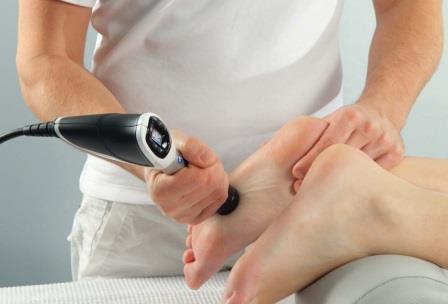 Does shockwave therapy work and is it expensive? Physiotherapist Thomas Osborne, from JRM Physiotherapy discusses how this modern and non-surgical treatment is used by physiotherapists.
Shockwave therapy has been used within professional football and other elite sports in recent years to provide a non-surgical and non-invasive treatment for injury. It can often be an expensive treatment, costing upwards of £200 for one session! However, at JRM Physiotherapy we offer high quality extracorporeal shockwave therapy at no extra cost as one of the treatment options in our standard physiotherapy sessions. Our aim is always to use whatever tools we have to get you back to your best and keep you there, for the best value possible.
What is Shockwave Therapy?
Shockwaves are a form of energy, a sound wave, which has properties that can help aid the healing of musculoskeletal injuries. The energy is delivered at the point of contact with the skin, and then penetrates the specific tissue deeper in that area. It can be a non-invasive treatment option for patients who may have a long-term tendon or muscle related injuries. With minimal risks, shockwave therapy helps reduce pain; creates a pro-inflammatory response and helps increase blood flow to the target structure. This in turn will help with pain management, will kickstart the natural healing process and help promote tissue healing and regeneration.
Research
Studies by Nambi et al., (2022) and Kim et al., (2022), both show that shockwave therapy has far greater benefits than any other sham technique. The study by Nambi et al., compared the use of shockwave therapy and corticosteroid injections for patients with tennis elbow. The results showed that shockwave therapy had added outcomes with regards to pain management, tissue healing, recovery time and functional disability. Patients were able to return to exercise quicker and during treatment, and were able to function better with regards to range of motion and strength.
What type of Injuries is Shockwave used for?
Extracorporeal shockwave therapy can be used to help treat chronic tendon and muscular related injuries, showing the vast benefits it has to injuries such as:
• Plantar fasciitis
• Tennis / Golfers Elbow
• Achilles Tendonitis
• Rotator cuff
• Patella Tendinopathy
• Greater Trochanteric pain syndrome
• Shin splints
How has shockwave therapy helped patients at JRM Physiotherapy?
I recently chose to use shockwave as a treatment technique for a patient with plantar fasciitis, who had been suffering with the painful foot condition for 2 months. It affected their activity as they had not been able to run or walk the dog very far without pain and discomfort. The patient reports, "Before treatment, I was struggling to walk more than 10 minutes without my foot being painful. Since having shockwave, I was able to walk pain free for longer distances, meaning I could enjoy walking my dog. Not only that, I am now able to think about starting to run again with the help and advice from Thomas".
It took four sessions of shockwave therapy to reduce symptoms, meaning they are now less frequent and less painful. The patient is well on their way to returning to running and other hobbies that they previously enjoyed.
Can shockwave work in one session?
Often good analgesic effect is achieved after just one session. In my experience pain can be reduced significantly, and in some cases be gone, after the first treatment. For most conditions desired changes take place anywhere between 3 – 6 sessions, which would be spaced from 4 days apart.
Treatment can be uncomfortable, however there are settings that can be adjusted to work within your personal pain tolerance. In addition to this, areas of discomfort often reduce in a short period of time.
Shockwave is often combined within a wider plan of treatment and rehabilitation, which may include massage, taping, and exercise prescription to maximise the potential for recovery. More information is available on our Physiotherapy Webpage. To start your recovery, book in for an Initial Physiotherapy Assessment at JRM Physiotherapy to discuss whether shockwave would work for you.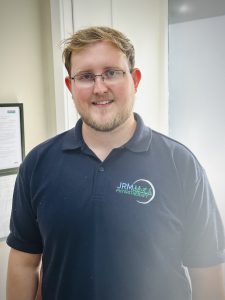 Physiotherapist Thomas Osborne has undertaken further training in Shockwave Therapy and injury rehabilitation.