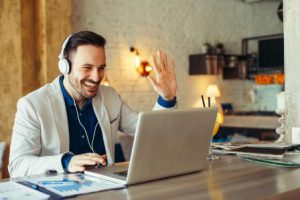 JRM Physiotherapy offers online remote physiotherapy treatment from your home. You don't have to be at home in pain, we at JRM Physiotherapy are here to help! We now offer online video and telehealth Physiotherapy sessions with our highly qualified and experienced team from the comfort of your own home.  You need nothing more than a smartphone, computer, laptop or tablet and the free Zoom app, which we will send you a link to download if you don't already have it.
Why have an Online Physiotherapy Consultation?
Research suggests this type of physiotherapy has comparable outcomes to face-to-face treatment, and has shown that this type of service carries many benefits for musculoskeletal pain and injury:
no travel required meaning more time efficient, cost effective more and environmentally friendly;
the ability to get an appointment sooner;
being at home in a more familiar environment can be more comfortable.
How do I arrange an Online Physiotherapy Consultation?
The process is very straight forward: you simply book an "Online Consultation" and we then send you a consent form via email with a brief set of questions about your symptoms, along with a link for the video call. You can book your appointment using our online booking tool, calling us on 01484 968017, or emailing us at admin@jrmphysio.com.
What happens in an Online Physiotherapy Consultation?
Using the Zoom app, you will be connected by live video-link to your Physiotherapist. You will both be able to see and hear each other in real-time through your online device (smartphone, computer, laptop or tablet). During the video consultation your Physiotherapist will ask you to perform a series of movements and tests to help us determine what is causing your symptoms. You will then be advised on an appropriate self-help and an exercise plan to help with your recovery. We will email your exercises via our exercise prescription software, as we would after a face-to-face appointment. If we think you might need to see a doctor, or require any further investigations in the form of an X-ray or a scan we will write to your GP requesting this.
How do I book an Online Physiotherapy Consultation?
If you would like more information or to discuss your issue with a Physiotherapist to see if you would benefit from an online consultation please call the clinic for a free chat to discuss you needs on 01484 968017 . If you would prefer a call back please email  admin@jrmphysio.com and one of the physiotherapy team will call you back. You can also Book Online Now .
Remote Online Physiotherapy Consultation Prices
Initial phone call appointment with physiotherapist to assess suitability: FREE OF CHARGE
Online Consultation with physiotherapist: see About us & pricing page for details)